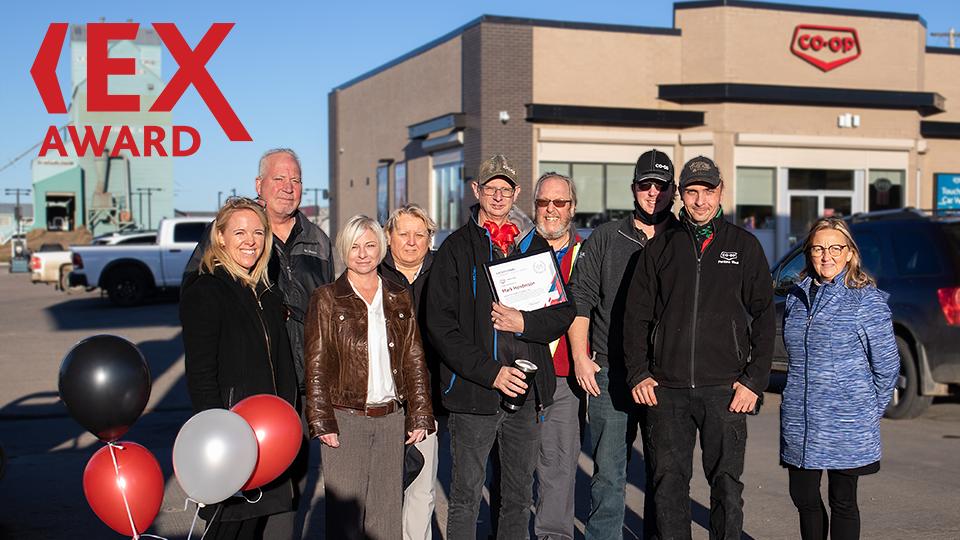 Ex Awards
November 3, 2021
Making a difference in members' lives is what Co-op team members do each and every day. It is a concept that has guided us for nearly a century, and it will continue to ensure our longevity and relevance for generations to come. We are recognizing team members that have delivered exceptional service to our community with our new Ex Awards program. We want to recognize all forms of exceptional community service, be that within their work at Pembina West Co-op or out in the community.
Read on to learn the stories behind the Ex Awards we have presented so far.
Have a great story about a Co-op team member? Please share your story with us so that we can recognize their exceptional service. Complete a nomination here.
Recipients
Mark Henderson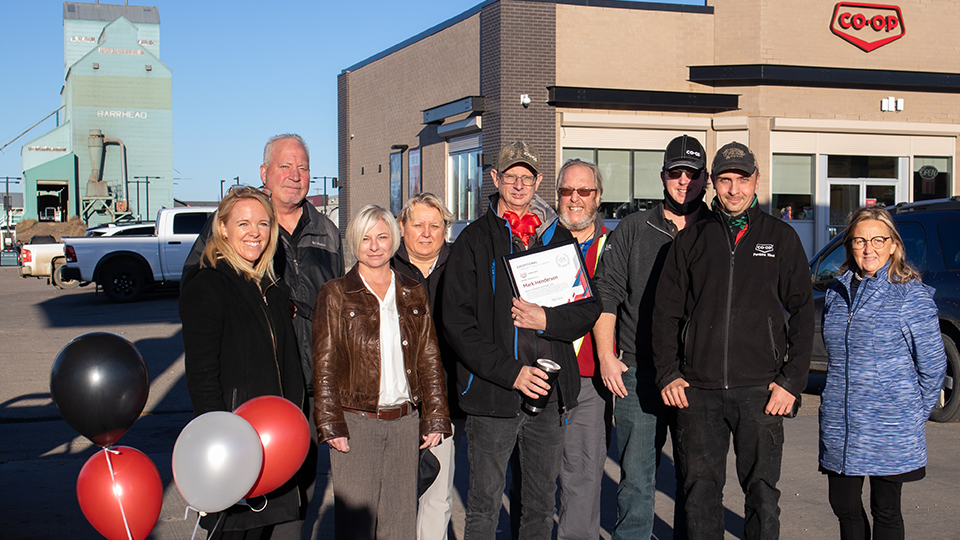 "In May the Gas Bar was experiencing management shortages due to COVID isolation periods. We asked Mark to help out at the Gas Bar, overseeing operations there during the absence of our manager and supervisors. Mark did just that, spending countless hours there ensuring operations ran smoothly, from paperwork to ordering and more, and even pumping fuel when needed! At the same time, he was able to ensure his regular duties with the Energy & Ag Division were kept up. In my opinion, Mark went above and beyond for the betterment of Pembina West Co-op." - Garry (June 22, 2021)
Bree Ebens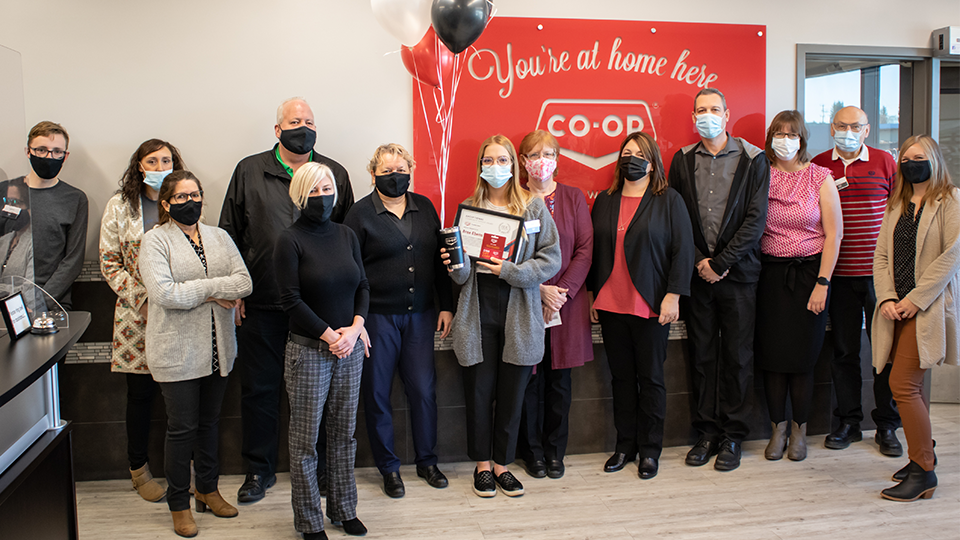 "Bree always goes above and beyond with customers and fellow team members. She goes the extra mile to make everyone feel welcome and included. Her exceptional kindness and service with our mail carrier always stands out. In my role orienting new team members, I witnessed Bree's exceptional service when we welcomed a team member with visual impairments. This team member spoke of Bree with the highest praise for her extra care to make them feel at home." -Joanne (Aug 8, 2021)
Rhonda Carnduff and Christine Hennessey

"I would like to nominate the team of Christine and Rhonda at the Whitecourt branch for an EX Award. I feel that their contribution to our presence and promotion of our brand in Whitecourt, through countless hours of volunteering, goes above and beyond normal expectations. Events like the Halloween Trunk or Treat, The Christmas Parade, Ag Society Mud Bog, to name a few, have seen this team prepare and present in a fashion that showcases what Co-ops are all about in their communities. Please consider Christine and Rhonda for a well deserved EX Award." - Garry (December 8, 2021)

LeeAnn Matula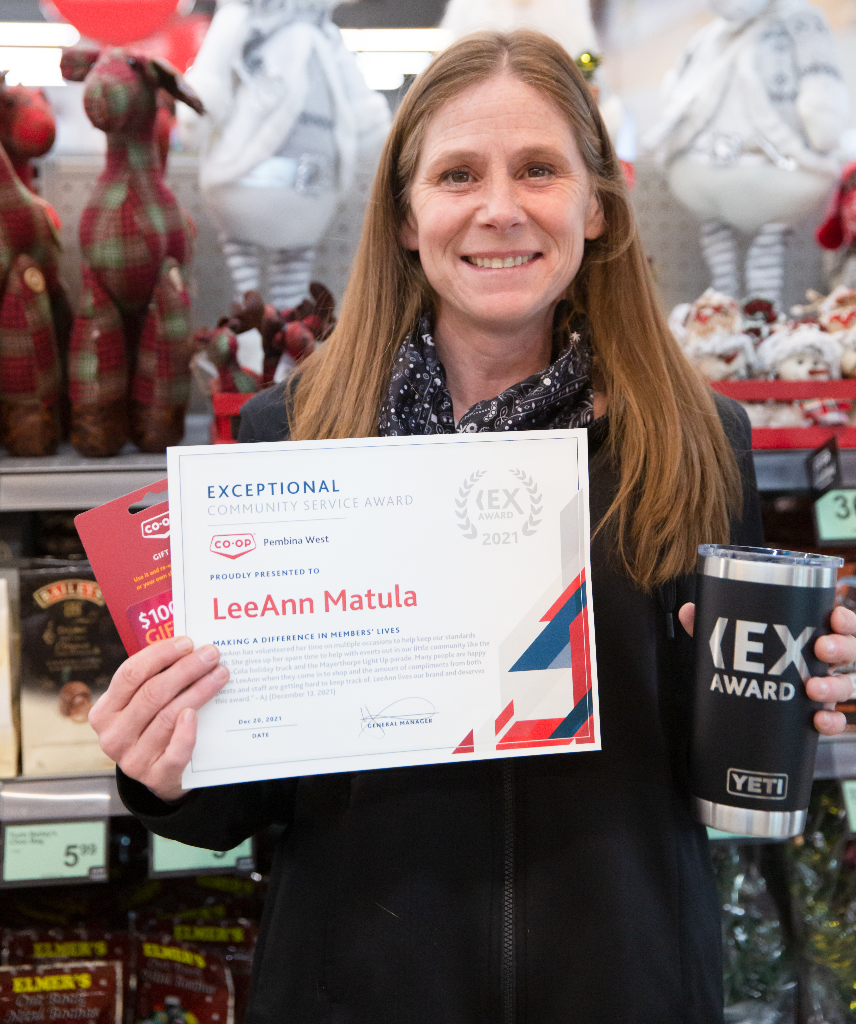 "LeeAnn has volunteered her time on multiple occasions to help keep our standards high. She gives up her spare time to help with events out in our little community like the Coca-Cola holiday truck and the Mayerthorpe Light Up parade. Many people are happy to see LeeAnn when they come in to shop and the amount of compliments from both guests and staff are getting hard to keep track of. LeeAnn lives our brand and deserves this award." - AJ (December 13, 2021)
Sabrina Hopp

"You are the #1 location for bagged feed volume by a single retail outlet. Way to go! Thank you for your hard work, effort and commitment. It has been a pleasure working with you this past year." - Jody, FCL Feed Team Advisor (November 30, 2021)


"Sabrina took over our feed department 2 years ago when it was tanking and we had negative margins. We needed someone to take control and reinvent ourselves to the community, and she has done just that. Sabrina has built many positive relationships within our community of farmers and she often goes out of her way to make sure they are completely taken care of every time they set foot in our store. Sabrina has grown a lot over the years and is a respected member of our team. She is always open for training and bettering herself. She introduced feed to Whitecourt not knowing how well it would go and has recently bought out a pet store's feed inventory in Whitecourt. By building these relationships and taking on new opportunities, Sabrina has grown our Co-op to the #1 location for sales volume of bagged feed sales by a single retail outlet in the Co-operative Retailing System! Sabrina is invested in the Co-op and we are proud to have her on our Home Centre team." - Jennifer (December 2021)
Steph Penney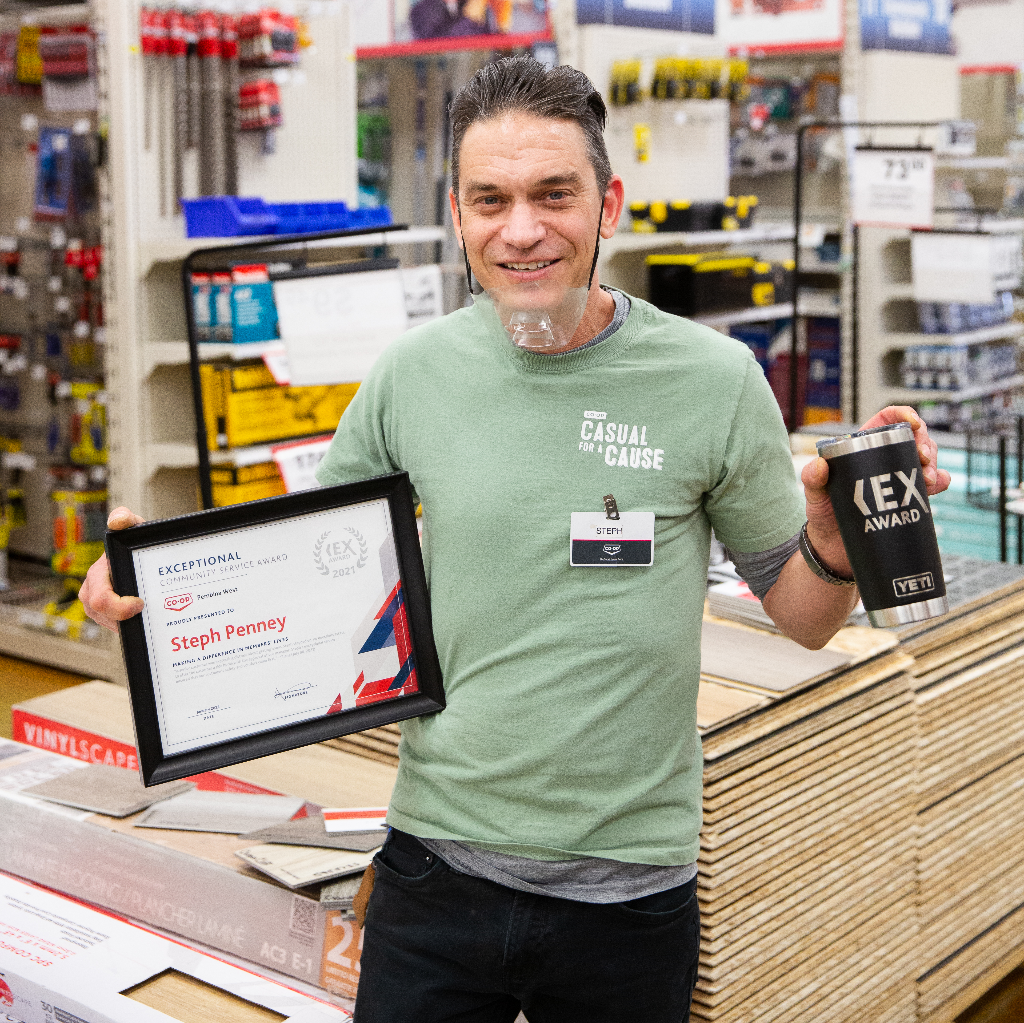 "A senior customer was expressing distress about getting home. Steph stepped up, no questions asked, to offer the customer a ride home with the approval of our manager. Steph's exceptional service ensured that our customer's safety and comfort came first." - Shana (July 30, 2021)
Joanne Dunbar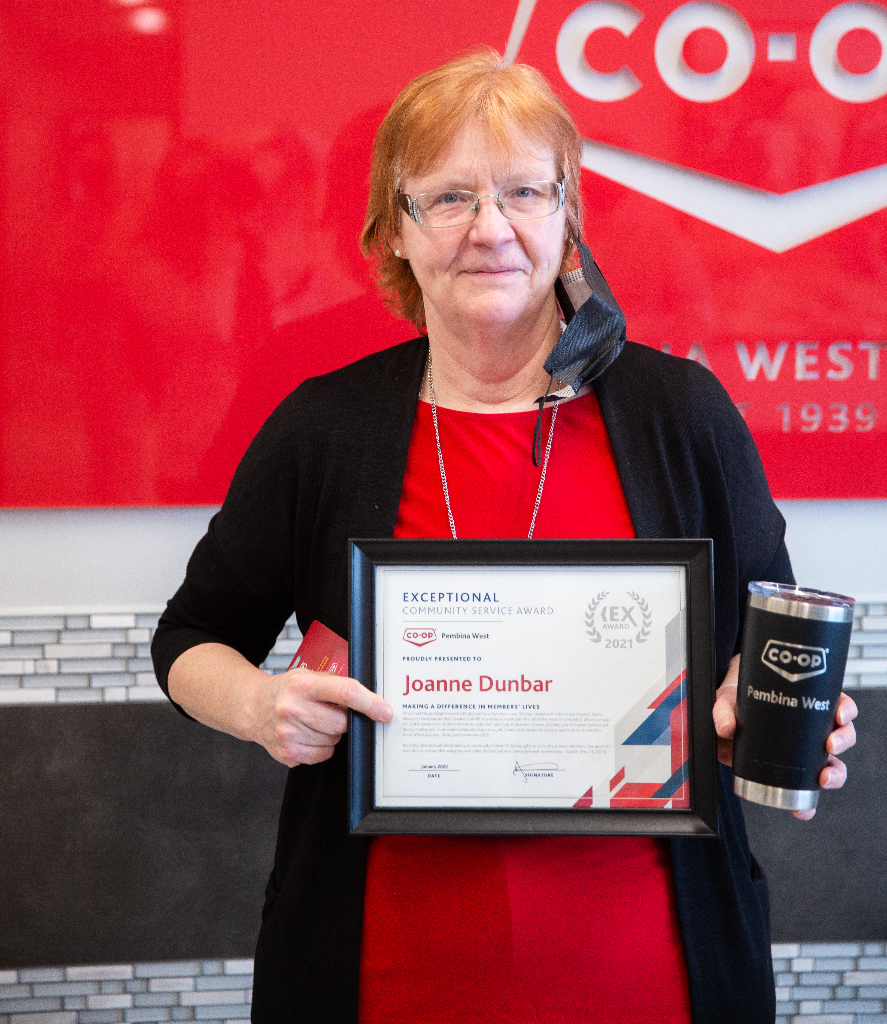 I have had the privilege to work with Joanne for a few years now. She has always went above and beyond. She is always at work earlier than needed and will stay later to make sure that all of her work is completed. She never says no, and is always one of the first ones to volunteer and help at an event. Joanne will help you whenever needed and always makes you comfortable when starting a new job. Joanne is dedicated to her job, and truly works hard to make it a better place. - Katelyn (November 2021)
Recently, Joanne took the initiative to personally deliver Christmas gifts to each of our team members. She gave her own time to ensure that every team member felt valued and create personal connections. - Rachel (Dec. 15, 2021)
Bill Smith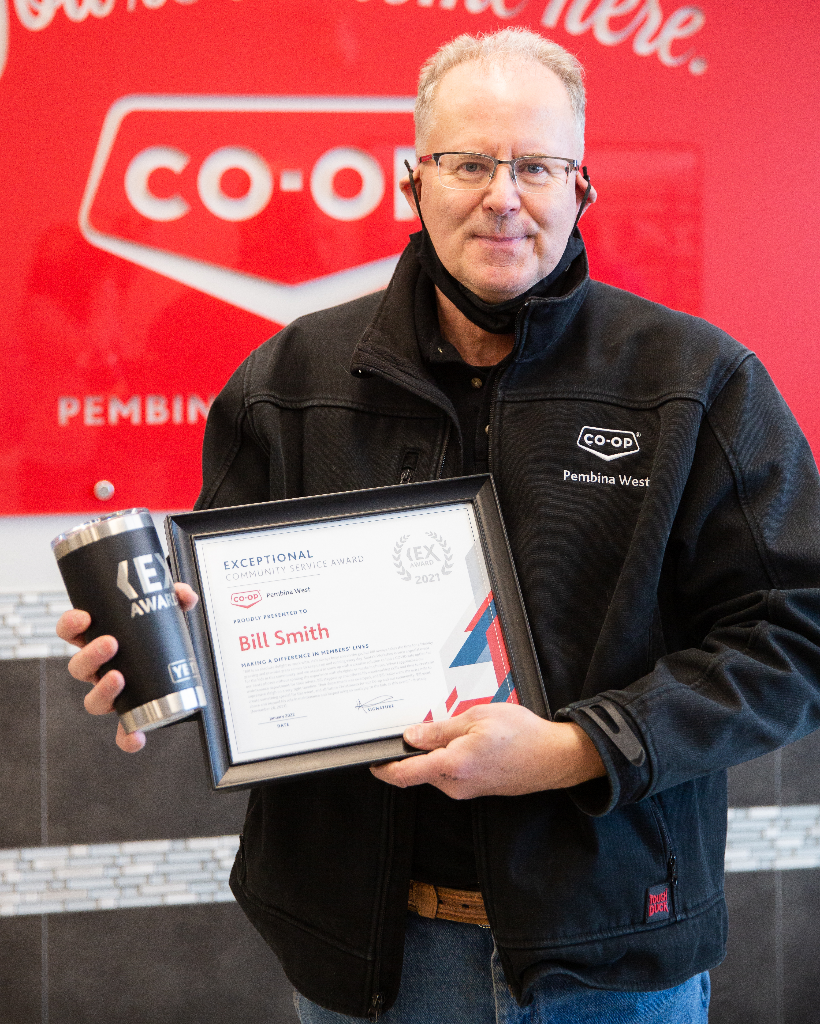 "Bill is an absolute delight to work with. He's always busy and on the go, but Bill always takes the time for a friendly greeting and provides great service to keep us up and running every day. Santa's Workshop is such a special event for the kids in this community, and we needed to come up with a creative solution to find a COVID safe option for our Santa photos without spoiling the experience with plexiglass or masks in photos. When I approached our maintenance department for their advice, Bill stepped up and offered his woodworking skills and time to create an impressive sleigh on a very tight timeline. Their department was swamped, and Bill really went the extra mile to create something special for this event, and all future Christmases for our Co-op and our community. Bill went above and beyond his role in maintenance and helped bring so much joy to the kids at this event." - Brittany (November 28, 2021)