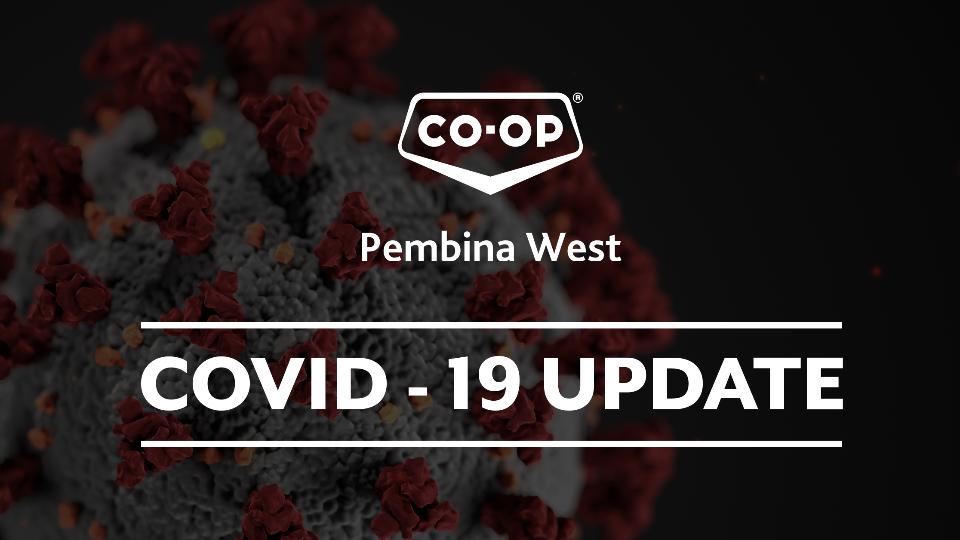 COVID-19 Update
March 17, 2020
This is a difficult time for our communities, our members, and our team. We want to assure you that our co-op is looking out for our community and our members, and working to stay on top of the latest developments. At this time, we have implemented the following:
Our stores are cleaned and sanitized regularly throughout the day as part of normal business, and all locations are increasing the frequency of cleaning, especially around high-touch areas.

We're working with our team members to ensure they have current information on prevention so they can stay healthy. Team members are also asked to stay home if they are feeling ill.

Prices on all essential items will remain stable throughout this challenging time, although at times we may need to enforce purchase limits.

We are currently limiting toilet paper, tissues, paper towels, and sanitizers to 1 package per family per day. Other limits may be added as necessary.

Bistro seating areas have been closed to encourage social distancing.
The bistro self-serve bar, as well as bulk buns, bulk donuts and open bulk bins are unavailable.
Kids club cookies and fruit will not be available.
All cashiers will be wearing gloves.
Reusable bags are not permitted in our stores at this time. Orders will be bagged in single use bags.
Returns will not be accepted until further notice.
Customers are encouraged to pay by credit or debit cards, and tap when possible.
We have posted signage requesting shoppers feeling any symptoms including fever, cough and difficulty breathing to refrain from entering the premises and save their shopping for another day, have a healthy friend do their shopping, or utilize our delivery services.

We encourage our customers and members to keep informed on prevention by checking the websites of our provincial health authority, Health Canada and the World Health Organization.
Delivery
Our delivery service has always been available, and is currently experiencing higher demand than ever. We are proud that this service is allowing us to protect the most vulnerable members of our community, and we ask you to be patient as our Barrhead store is up from an average of 8 deliveries a day to over 50! We have a full time team in place dedicated to keeping up with demand.
Delivery and curbside pickup services are available for both grocery and prescriptions
Orders can be placed by phone or online

Barrhead 780-674-2201 ext 3
Mayerthorpe 780-786-2671

Cutoff for same day delivery is 3PM
No weekend deliveries in Mayerthorpe, no Sunday deliveries in Barrhead
Free delivery is being offered to:

Seniors
Those in isolation or quarantine

Curbside pickup is available at no charge
Effective April 13th minimum order for delivery will be $50.00, no minimum for curbside pickup
We are expanding our delivery area to serve as many people as possible, out of town deliveries are being permitted in a 30km radius
Payments can be made by

Credit/Debit Cards (this is the preferred method of payment)
Cheque
Charge on account for existing credit accounts in good standing
Reduced Hours
To ensure that we have a healthy team available to meet your needs throughout this time, we have also reduced store hours as follows:
Pharmacy: Prescription pickup hours are 10AM-12PM and 4PM-6PM Monday to Saturday. Prescriptions may be dropped off into a drop-box in the pharmacy area during Food Store hours. Pharmacist advice is available by phone, 780-674-2201 option 2.

Barrhead Food Store: 9AM-7PM Monday to Saturday, Sunday 10AM-6PM
Mayerthorpe Food Store: 9AM-6PM Monday to Saturday, Closed Sundays
Liquor Store: Monday to Sunday 12PM-7PM
Home Centre: Monday to Friday 8AM-5PM, Closed Saturdays
Gas Bar: Monday to Friday 6AM-9PM, Saturday & Sunday 7AM-9PM
Administration Office: The administration office is currently closed to the public. Please call 780-674-2201 and leave a message, your call will be returned between 8AM and 4:30PM, Monday to Friday.
Petroleum Office: The petroleum office is currently closed to the public. You can reach our petroleum team at 780-674-2201 ext. 281.
Whitecourt Cardlock: The cardlock pumps will remain open, but the convenience store is currently closed. You can reach our Whitecourt team at 780-778-3239.
Seniors' Shopping
Pembina West Co-op is not offering a "Seniors' Shopping Hour" as we feel strongly that our most vulnerable members should stay at home, out of public settings. Encouraging our senior population to congregate during the same time period increases the risk that a single case can spread across our most vulnerable members. We are offering free delivery to seniors to enable them to stay home. Please see the above section "Delivery" for more details.

Prescription pick up hours 10AM to 12PM and 4PM to 6PM, Monday to Saturday
In order to manage staffing and limit our team's exposure to the public, prescription pickup hours are limited to 10AM to 12PM and 4PM to 6PM, Monday to Saturday. These measures are in place to ensure that we continue to have a team available throughout the course of this pandemic. A prescription drop box is available in the pharmacy area during food store hours. Pharmacist advice is available by phone at 780-674-2201 ext 2.
We appreciate your patience over the last few weeks, and we are thankful that the stockpiling issue has subsided. We are continuing to fill up to a maximum of 30 days for your prescriptions, based on guidelines from Alberta Health, the Alberta Pharmacists' Association, and the Alberta College of Pharmacy. This will ensure that we are able to manage medication supplies throughout this pandemic to avoid product shortages and allow continued access to medications for all members.
Please remember to maintain a 6-foot distance from the customer in front of you. The pharmacy has pagers that can be requested should you not want to wait in line. We have expanded the number of pagers available, and they will work anywhere in the store. The pagers will beep once it is your turn.

We would also like to remind you not to ask team members for hand sanitizers, masks or gloves. We do not have any behind the counter.
Thank you for your continued kindness and compassion during this time.
-from the Pembina West Co-op Pharmacy Team