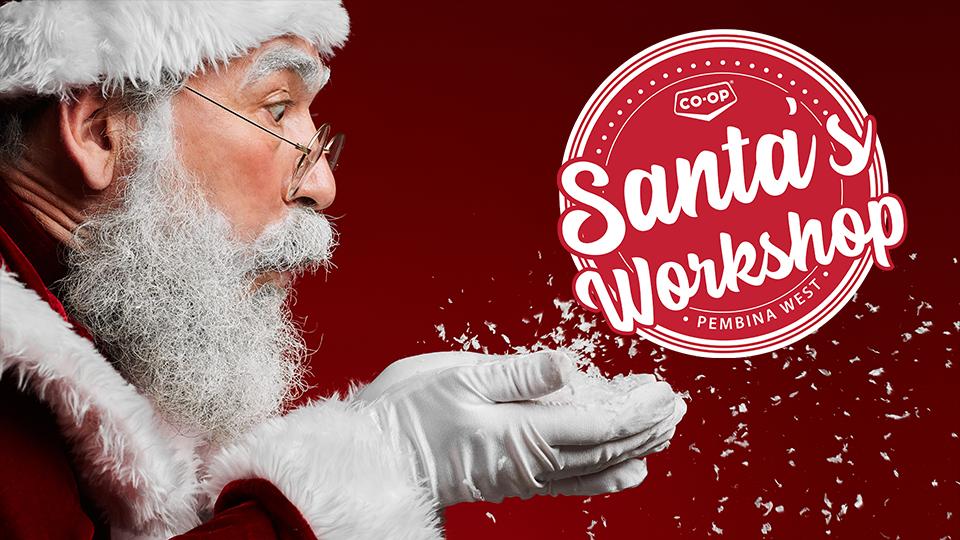 Santa's Workshop 2021
November 15, 2021
Santa's Workshop is back! We have been hard at work coordinating with the North Pole to bring Santa back to Barrhead for our traditional Santa's Workshop event.
Santa and his helpers are coming to Barrhead Sunday, November 28th. Join Pembina West Co-op at the Senior's Drop-In Centre for this event featuring free photos with Santa and the opportunity for kids to shop Santa's workshop for a surprise gift for mom and dad with the assistance of Santa's helpers.

To ensure that our workshop stays safe and that Santa, his helpers, and all our little friends attending this event stay healthy for the coming holiday season, we will be limiting capacity, maintaining distancing guidelines, and wearing masks to keep each other safe.
This year we will be booking entry times to reduce your wait and manage capacity.

Our beautiful Santa photo scene will be set up to maintain 6' distance between kids and Santa so that we are able to enjoy maskless photos. Mask guidelines are in place, and the current protocols permit masks to be removed while photography services are being received as long as distancing from other households is maintained.
Parents will be permitted in the registration and photo area, and will then be asked to wait outside in the marked area to pick up kids exiting the workshop.
Should health guidelines and restrictions change, adjustments may be necessary.
We are excited to bring back this tradition to our community in a safe manner without sacrificing the Christmas magic!
Santa's Workshop has always been made possible with the support of our community. If you are interested in volunteering at this event, please let us know by completing this online form or calling Brittany at 780-674-2201 ext.124