CO-OP Growing Leaders 4-H Sponsorship
Actions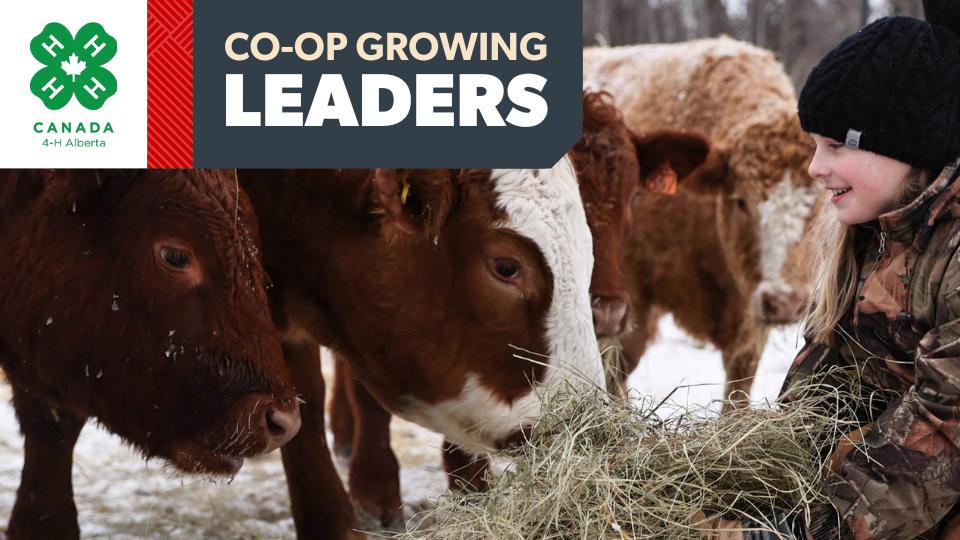 CO-OP Growing Leaders 4-H Sponsorship
October 11, 2023
Pembina West Co-op, in partnership with other local Co-ops, Federated Co-operatives Ltd, and 4-H Alberta, is proudly supporting the Alberta Ag community by funding new 4-H Memberships.
We are thrilled to announce that we have partnered with 4-H Alberta as well as Federated Co‑operatives Limited, Arrowwood Co-op, Central Alberta Co-op, Cornerstone Co-op, Pincher Creek Co-op, and Westview Co-op as sponsors of the new CO-OP Growing Leaders program, an exciting initiative that will fund new 4-H Alberta members.
Who is Eligible?
The CO-OP Growing Leaders progam will cover all age ranges from Cleaver to Seniors, and cover all membership fees for the new participant, both provincial registration fees and the local club fees. This program is open to anyone who has not previously been involved with 4-H Alberta (Cleaver Kids are welcome to apply).
Participants who are located within Pembina West Co-op's trading area, which includes Whitecourt, Mayerthorpe, Barrhead, and Westlock, including areas north to Swan Hills, south to Highway 16, and west to Edson, will apply with Pembina West Co-op as their selected Co-op location.
How Does it Work?

Reach out to Brittany Schuurman or Cheyenne Tischer in the Pembina West Co-op Member Relations department at 780-674-2201 ext. 124 or ext. 194 to express your interest in the program.
Then, fill out the application form online.

You will need to know:

Your 4-H Region

The name of the Club you wish to join
The name and contact information of the General Leader of the Club you wish to join.

The application form can be found here: https://forms.gle/gx5SszvFKhgszc8u7


Once 4-H Alberta has received all the information, they will connect with the new member's club and confirm registration
Once confirmed, your information will be shared with Pembina West Co-op for approval
Then the club will receive the registration fees directly from 4-H Alberta
The deadline to apply is November 20, 2023
If you have additional questions please contact development@4hab.com
Discover more: