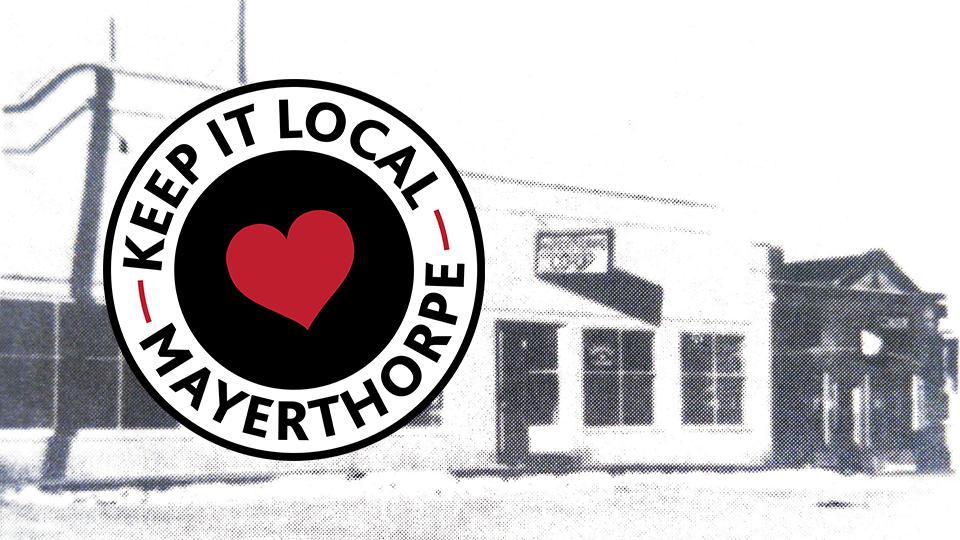 Keep It Local Mayerthorpe
July 16, 2020
We are excited to announce that our Mayerthorpe Till Tape Program has been completely revamped and is now more convenient than ever for both our local groups and their supporters. Gone are the days of collecting boxes full of receipts, the program now features a simple annual opt-in from both our charitable recipients and their supporters. Welcome to the new Keep It Local Mayerthorpe program.

Members will have the opportunity to opt in for up to 1% of their purchases to be donated to the approved organization of their choice. Donations will be capped at $9,000 per semi-annual period across the entire program. This ensures that we can continue to provide the same level of support as previously given, while ensuring that the program remains sustainable. If 1% of eligible purchases by members in the program exceeds $9,000 in a semi-annual period, funds will be distributed proportionally based on the percentage of sales relating to each organization's supporters.
Calculations will be made by membership number based on patronage records of purchases made at the Mayerthorpe Co-op, similar to how individual members' equity allocations are calculated. No receipts need to be collected or submitted. Eligible purchases will not include lotto, tobacco, gift cards, and bottle deposits. Calculations will be made twice a fiscal year, with the first payment reflecting the first 24 weeks of our fiscal year and the second reflecting the last 28 weeks. Reflecting the difference in calendars between the old program and the revised program, the first calculation period will reflect purchases made from June 21st to the end of our fiscal year January 30th, 2021.
The program is open to all Mayerthorpe area charitable groups and not-for-profits who align with the core values of our Co-operative and meet the eligibility criteria described below:
The organization or a principal applicant from the organization must hold a membership with Pembina West Co-op.
Groups must be local in scope.
Groups generally must not fall into the exclusionary criteria listed below:
Individual organizations that do not share similar core values
Individuals, self-interest
Third party fund raisers
Groups promoting racial or social intolerance
Private clubs
Professional or technical associations
Fraternal organizations
Endowments
Political parties
Religious groups or organizations (programs facilitated by a religious group but open to all may be considered)
To include your organization on the list of recipients to be selected by our Co-op members, you must
complete a registration form by August 15th, available online here.
If you require a printed registration form, please call our offices at 780-674-2201 and speak to Brittany, ext 224.
Once organizations have been confirmed for the first round of donations, members will be able to opt in and select an organization to support. Selected organizations will receive further information to encourage their supporters to register. Supporter registration will be available on this page from September 1 to October 1 for the first round of donations.
Thank you for making our community great for all these years. We look forward to continuing to partner with you in the good work that you do.